It just isn't Spring or Summer until we've baked a yummy pie filled with Grandmas Rhubarb.  In today's post, I share how to grow and harvest Rhubarb.
How to Grow and Harvest Rhubarb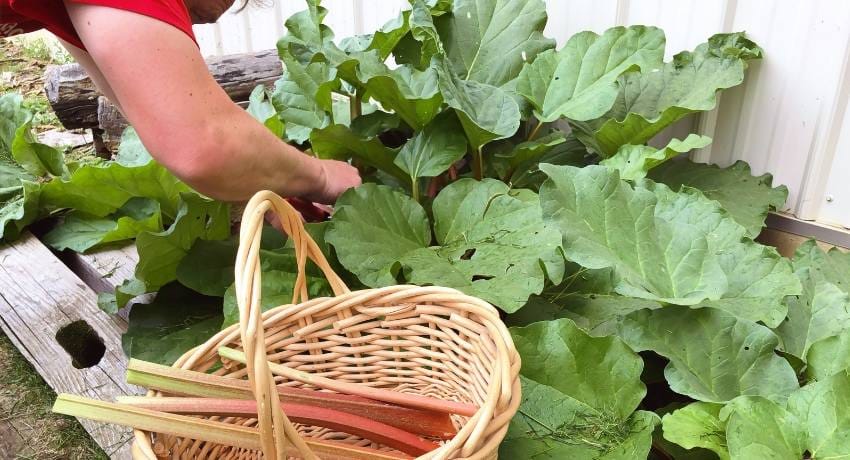 My husband started growing his own rhubarb in 2015 when he brought home a nice 1/2 gallon size plant from his Moms garden.  In a short few years, the plant takes up a nice 4 foot by 3-foot section behind the barn.  In the video below I get hubby to share a few tips on how he grows and harvest this superfood.

This video was super fun to create and can be found on my Youtube and Facebook page.
Rhubarb Growing Notes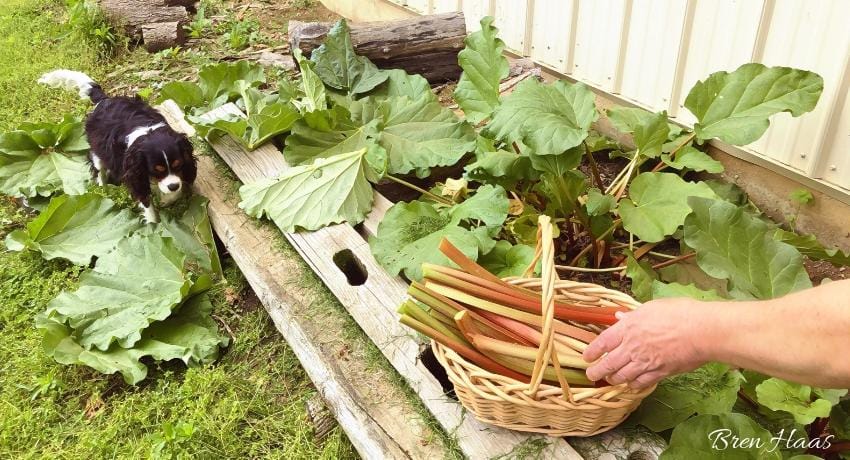 Rhubarb is a plant I kind of ignored until I had my own country garden.  I think the plant is best known for taking up a lot of space and PIE!  The Rhubarb can be tart and is delicious in sauces and pie.  I think it is best to start the plant from a root cutting because it doesn't always grow the same plant from seed.
It really is a beautiful plant… I love it some much I started some from a store bought root back by my dome.  We will see how it does back here where it is pretty wet during the spring growing season.
IMPORTANT NOTE: The rhubarb leaf will make people and pets very sick so be sure to NOT EAT THEM! 
Oliver our Cavalier King Charles Spaniel seems to love the stalk of the plant.  Be careful with the leaf because I did read that it is poisonous to people and pets.


You will want to be sure the plant has enough space to grow.  The Rhubarb loves dry and sunny locations in the garden allowing it to grow 2 – 4 feet wide and tall.  It is not unusual to spot this plant growing in country gardens along the fence or a barn.  The plant does well facing the south and against a structure.
Rhubarb Recipes
Note that rhubarb has Total Carbohydrate 2.3 g – which is awesome if you grow the variety we have because it always tastes sweet. My husband eats it right after harvesting out of the patch. 
Below are a few of my favorite recipes. If you have a favorite please comment on this blog post or share the recipe with me on my connect page.
https://brenhaas.com/garden-fresh-rhubarb-strawberry-crumble-recipe/
Can't Grow Rhubarb
Its never too late to try growing rhubarb however after reading this post and seeing the pies above you will want to get some fresh stalks NOW!   I recommend checking out Amazon Fresh where you can order produce brought right to your door.  Amazon Fresh is not in my area yet so I've not been able to do a review – but stay tune!
Let's Connect
I'd love to hear your opinion about Rhubarb and if you have any questions.  Please be sure to comment on my post below or reach out on my contact page for more information.
Happy Rhubarb Gardening,