I love to share all the fun menu ideas including the ways to prepare the food that is truly making a difference in our lives. Today I share a grape tomato and cauliflower cake recipe for an anti-inflammatory diet.
Resources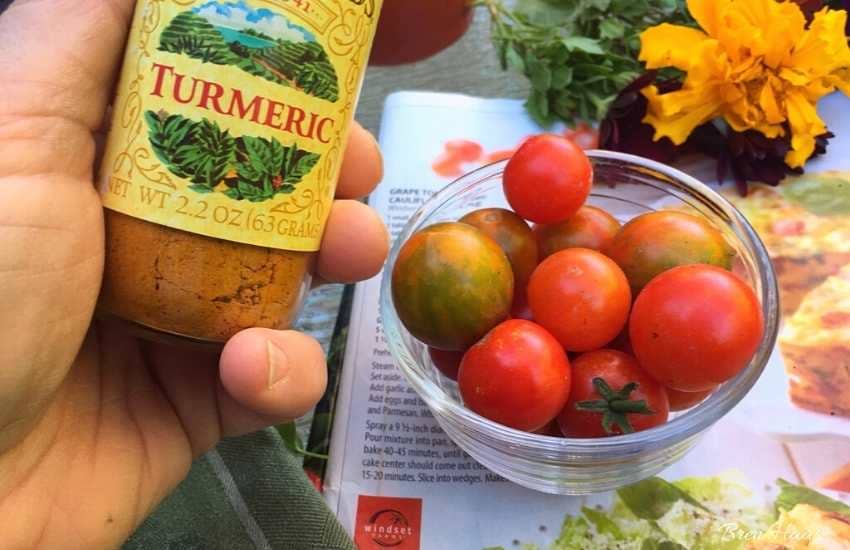 I'm on a mission to find the facts when it comes to healthy living.  Over the years I've learned that some of the best places to find facts are from case studies and research that has been collected by University studies and Non-Profit Organizations rather than just following someone's opinion.
Why Whole Grain Quinoa Flour?
I recently read that gluten products are bad for those who suffer from arthritis.  The report is from NaturalHealthReports.net   All-purpose flour is a member of the refined carbohydrate family and can drive up inflammation because the body processes them into sugar.  By eating less refined carbs this has helped my issues with carpal tunnel and my husband's mild arthritis in his back that he doesn't like to talk about ( shhh…..).
3 Food Choices for Arthritis
An extra virgin olive oil used in this recipe is loaded with heart-healthy fats. Extra virgin olive oil has properties similar to non-steroidal, anti-inflammatory drugs.
Calcium and vitamin D are found in Parmesan Cheese used in this recipe that helps strengthen bones.
Consuming foods from the allium family such as garlic found in this recipe showed fewer signs of early osteoarthritis (OA). Researchers believe the compound diallyl disulfide found in garlic may limit cartilage-damaging enzymes in human cells.
Read more at: www.arthritis.org
Grape Tomato and Cauliflower Cake Recipe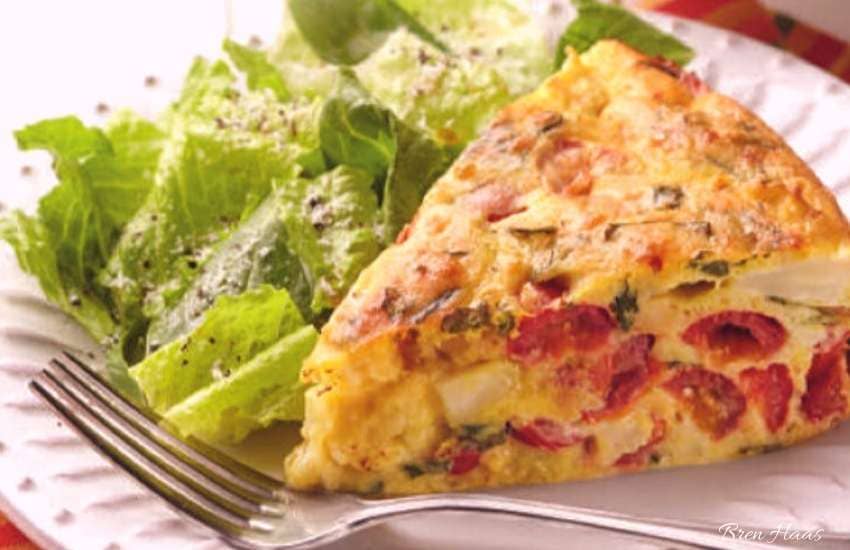 This recipe is great during the end of the garden season when you have plenty of extra herbs and tomatoes on hand to add to this recipe.  I think the fresh basil addition to this recipe is my favorite part.  There are so many great basil varieties out there but the globe or party pesto basil are my favorites.  Be sure to take advantage of the print recipe option below so you can add this to your kitchen notes. Keep scrolling to get the recipe!
Why substitute Whole Grain Quinoa Flour for the All-Purpose Flour?  Check out my resources in this post.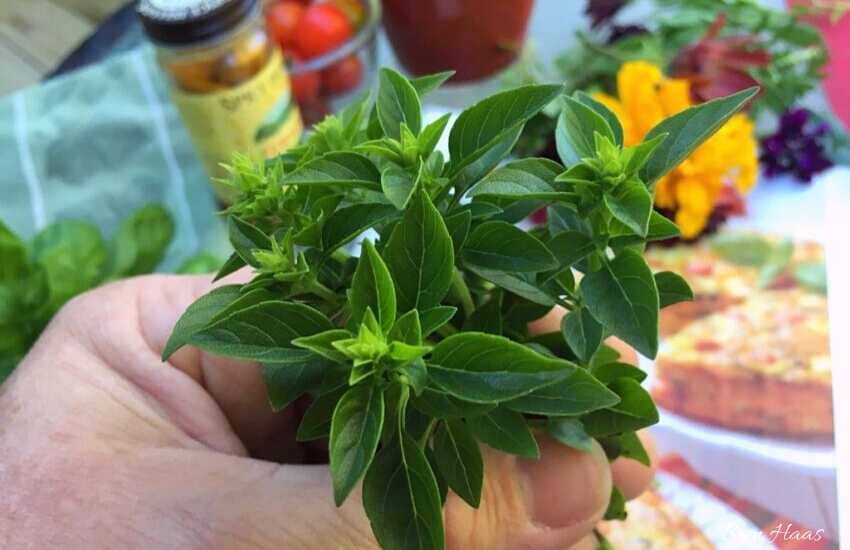 Grape Tomato and Cauliflower Cake
8 servings
Ingredients
1 small cauliflower, cut into small florets

2 tablespoons olive oil

2 tablespoons of butter

2 cloves of garlic, minced

8 eggs

½ cup fresh basil, chopped

1 cup all-purpose flour (substitute with gluten free choices)

1 teaspoon ground turmeric

3/4 teaspoon ground cumin

Pinch chili flakes

1 ½ teaspoon kosher salt

Ground Pepper, to taste

5 ounces Parmesan cheese, grated

2 cups grape tomatoes sliced
Instructions
Preheat oven to 400*F

Steam or roast cauliflower until tender, about 12 minutes.

Set aside in a small skillet, heat oil and butter over medium heat.

Add garlic and sauté until fragrant. Scrape garlic into a large bowl.

Add eggs and basil, whisking well. Add dry ingredients, seasoning and parmesan. Whisk until smooth. Gently stir in cauliflower and tomatoes.

Spray a 9 ½ inch diameter springform pan with cooking spray. (I used a non-stick pan 9" pan).

Pour mixture into pan, spreading evenly. Place on a middle rack and bake for 40-45 minutes or until golden brown and set. A knife inserted in the cake center should come out clean. Remove from the oven and let rest for 15-20 minutes. Slice into wedges.
Let's Connect
What have you been adding to your diet that makes you feel good? Connect with those who are want to better themselves is a fun adventure and a great way we can all benefit from it. In conclusion, I ask that you leave a comment below on this blog post so we can connect or visit my contact page to leave a personal email message.
With Good Healthy and Great Good In Mind,