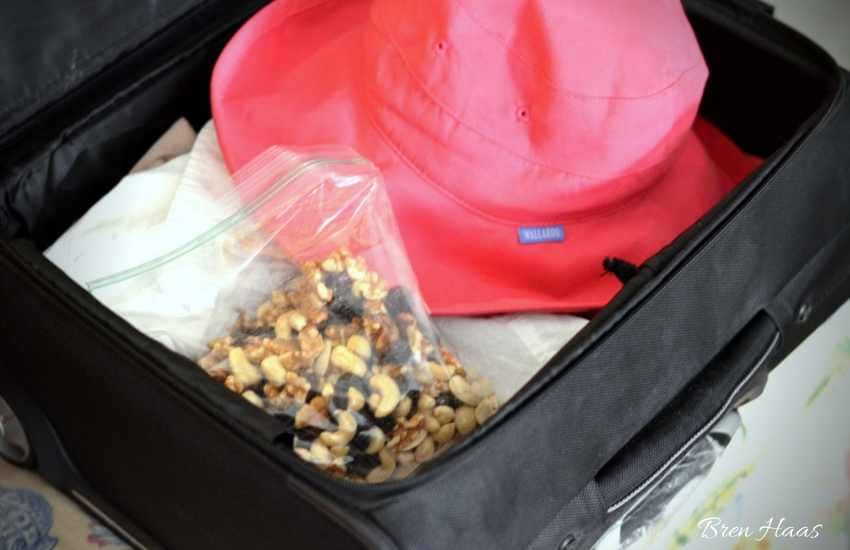 In this post, I share my super easy to mix and package for travel trail mix.  This recipe is fresher and cheaper to make from ingredients you handpick out at the grocery store.  I hope you will print the recipe card to my Perfect Healthy Travel Trail Mix Recipe.
Bren's Health Travel Trail Mix Recipe
Don't even think about buying a premixed bag of trail mix ever again after making your own!  YOU'VE BEEN WARNED!
I not only have a trail mix packed in my purse when I'm running errands in town I always pack a special mix when on travel. It is good to have  Nothing is worse than getting back to your hotel room late after a long day connecting with awesome folks at a travel event and your tummy is growling because you were too busy chatting and missed dinner.   Today I want to share a mix I'm taking with me on my trip out west tomorrow. A really unique spin to this mix is adding dried Goji berries like the ones I grew on my patio.  I hope you take advantage of the print option and add this mix to your next travel adventure to keep you energized.
Mix it up and let your family go nuts!  I enjoy purchasing healthy and fresh nut varieties and mixing my own.  Aldi Grocery store is my go-to place for fresh nuts.  I love to purchase all the varieties but my favorite is walnuts, cashews, hazelnuts, and pistachio.  When I get the nuts home I put them in canning jars with a tight seal because they last longer.  Buying large quantities of nuts also helps save money in the long run.
Get the Printable Recipe Card Here: Travel Trail Mix Recipe Card
Let's Connect
What do you mix up in your trail mix? Is there something unique that would win a contest? I'd love to connect with you so please share with me in the space below so we can connect.  You are also welcome to comment on my about page to find out more about me.
Happy Healthy Travels,