This recipe isn't one of the quick and easy versions that are out there. I've even served up a quick Shepherds Pie from the freezer department.  This recipe is made with real ground lamb and lots of herbs from my home garden.
Classic Shepherds Pie Recipe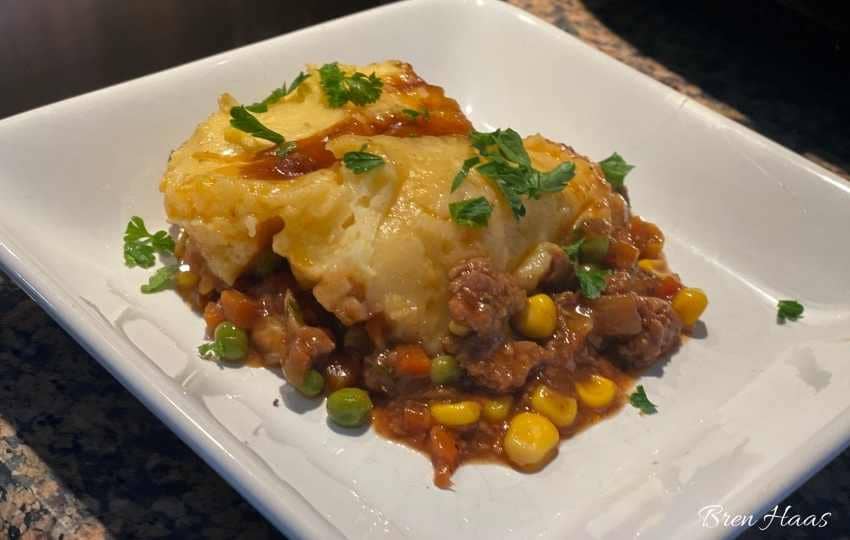 I've made a few short cuts in the recipe today because I really want to try this with ground lamb. I was lucky enough to find it at Aldi this week.  The meat wasn't super cheap so I am excited to see how it turns out. I use fresh herbs that I am fortunate to have in my home hydroponic set up and my dome greenhouse.   If you don't grow your own ( I am happy to help you learn) you can find these in the grocery produce department.  I've also seen season packets at the grocery store for this recipe using the spices instead of mixing your own herbs.  It is fun to grow your own and then use it in meals.  The flavor of fresh herbs is out of this world! Below are the ingredients that worked for me and my family enjoy.


Ingredients:
olive oil
chopped yellow onion

1

 

lb.

lean beef or

 ground lamb

parsley chopped fine
rosemary leaves

thyme leaves

salt and pepper to taste

Worcestershire sauce

garlic
flour

tomato paste

beef broth

mixed peas & carrots

corn kernels

Mash potatoes
shredded cheese or flavored potatoes
The original recipe calls for making your own mash potatoes from raw potatoes but I am cheating and using instant mix potatoes.
Printable Recipe Card
I like to give you details about this recipe on a printable card.  Be sure to take advantage of this and save as PDF or print for your home records.  Don't forget to connect with me on my site and let me know what you thought of my version of the Shepherds Pie today.
Printable Recipe Card Here!
This is a great dish to make ahead of time.  You an store in the refrigerator for up to 3 days.  Make sure you let the casserole dish filled with this meal come to room temperature before putting in the oven to bake.


Herb Notes:
A rule to remember when substituting fresh herbs for dried is noted here. Substitutions. Use 1/3 of the amount called for in the recipe. If the recipe calls for 3 teaspoon of rosemary then use 1 teaspoon.  Here is my recent post on how to prepare the rosemary. 
Let's Connect
Have you ever tried Shepherds Pie before?  This is my first time trying ground lamb that I prepared on my own.  It was super tasty and I will most likely use it again on special occasions.   I hope you will consider sharing your thoughts with me on my website.
Happy Baking,