Creative dishes filled with fresh veggies makes every event a hit! In today's post, I share the most requested recipe from my family and friends to bring to summer events.  My Aunt Mary Pasta Salad Recipe has been a favorite of mine since I enjoyed it as a kid.
Aunt Mary Pasta Salad Recipe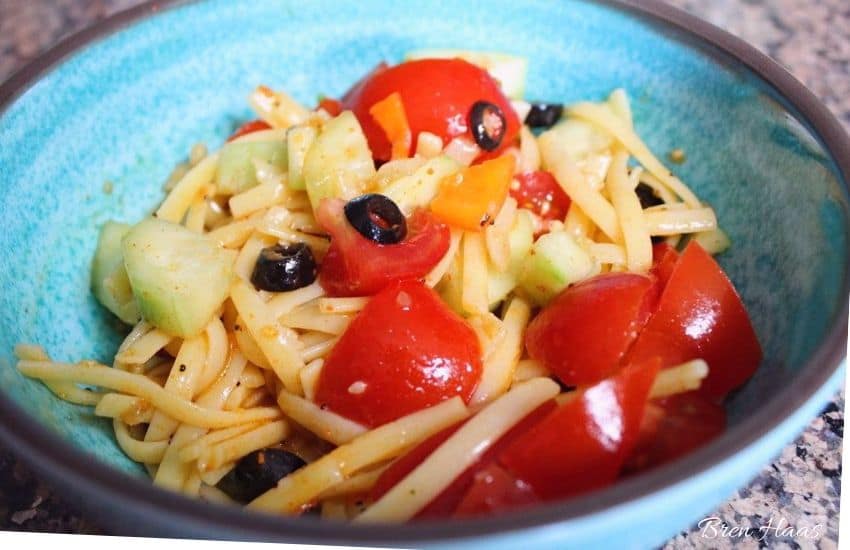 The cold pasta and fresh homegrown veggies help get the party started. The recipe is super easy to prepare.  I like to keep the cost down by using vegetables from my home garden.  You can make this dish especially when you use spaghetti pasta for around $5.  I hope you will check out the recipe and give it a try.  Be sure to share on social media tagging me @brenhaas.
This recipe has been updated over the years to fit what I have on hand.  It is always a good thing when you can keep the cost down and use what you have on hand.  In this recipe, I try my best to make this for events when I am harvesting tomatoes and cucumbers from my home garden.  You can also use store-bought but the flavor is a little different.
Highlights From The Kitchen
Images below are from my kitchen while I mix up this recipe.  I hope you will check out the images featuring tips below.   My Aunt Mary originally used Fettuccini  pasta in this dish.  Over the years I changed it to spaghetti because it is cheaper and easier to find.  Also, many of the folks who have made my recipes prefer the cheaper noodle.
Seasoning Makes The Difference 
Be sure to use your favorite Italian dressing and almost sprinkle McCormick Salad Seasoning on top!
Get the printable download here: Aunt Mary's Pasta Salad Cards
Let's Connect
I would love to know if you used this recipe at your latest event.  Be sure to comment on my post and reach out to me on my social media @brenhaas.  You can always find me on my website so be in touch!
Happy Aunt Mary Pasta Making,