There are so many creative recipes you can make with Rotisserie Chicken.  With all the options available I usually purchase 2 whole chickens just to preserve some in the freezer to use later. In this post I share how you can mix up your own Chinese Chicken Salad with Asian Peanut Salad Dressing.
Easy Chinese Chicken Salad with Asian Peanut Salad Dressing Recipe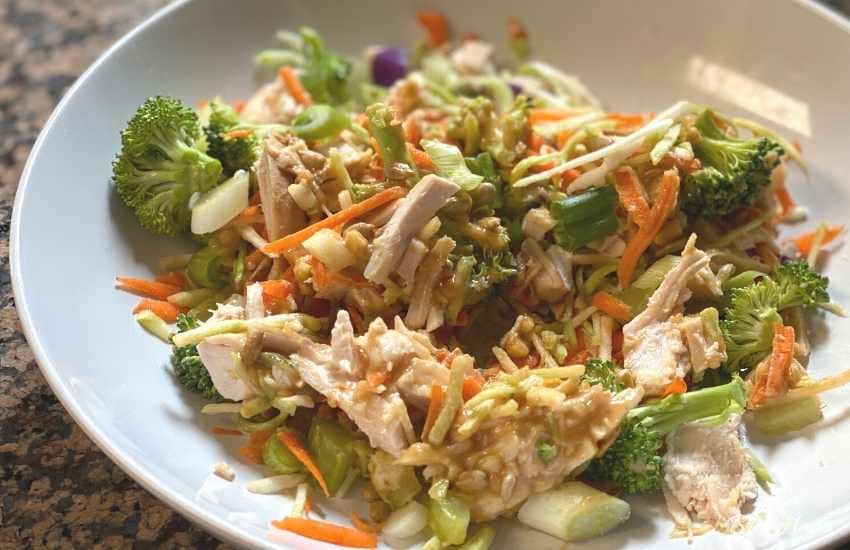 Who doesn't love the pick me up in peanuts?  This salad will give you energy along with satisfying those hunger pains in a hurry.  In this feature I use the prepared Asian chopped vegetable kits you can find at grocery stores.  In the past few months it has been easier to find the kits in stock then a fresh head of cabbage.  It just depends on the season.   Be sure to check out the notes in the recipe below.  Don't forget to print this to use this season when you are short on time.  You can thank me later! 
Printable Recipe Card Here!
If you don't have rotisserie chicken you can also use cooked chicken breast.  The idea is to use fresh and what you can easily find on hand.  I like 'cheating' and using those chopped salads you can find in the produce aisle.  It makes it easy to create meals like this quickly.  The important thing to remember is those salad kits have to be used quickly so be sure to check the expiration dates on the package before purchasing.
Let's Connect
In conclusion of reading this post I hope you will comment and let me know if you tried the recipe.  What did you think of using the rotisserie chicken used in the mail? This Chinese chicken salad recipe will be one you use for many years – I promise!
Happy Easy Salad Making,